Do you want to know how to successfully help diabetics?

Learn this effective and innovative concept that teaches you how to treat Diabetes symptoms successfully - by the Facial Reflex Therapist Number 1!


Say good bye to books, DVD´s and being bound to your desk! Say Hello to a
2 hour Online Reflexology
Workshop

Life sentence: Diabetes!
You can help reverse the symptoms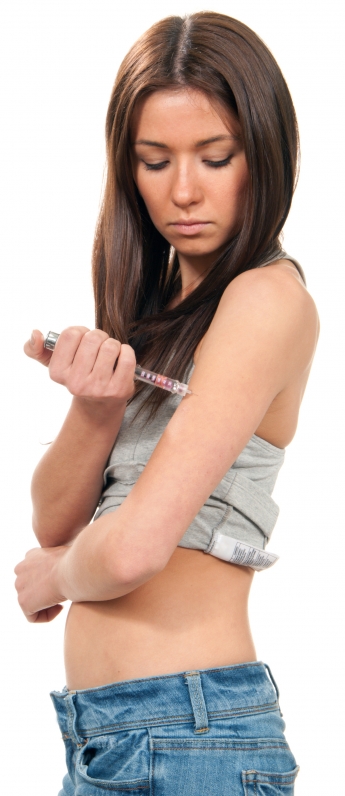 Millions of people, both adults and children have been diagnosed with diabetes or pre-diabetes.
Diabetes is regarded as a metabolic syndrome and causes changes in all bodily functions, as a result of chronically raised blood glucose and / or high blood pressure.
In addition to psychological stress like anxiety, depression or social consequences, people with diabetes are also affected by emergency situations such as severe hypoglycaemia. Even in training and work life diagnosing diabetes poses a variety of questions and often leads to social discrimination and disadvantages.
Doctors can not accompany their patients around the clock. Diabetics must rather learn how to cope with their disease and how to best integrate it into their daily lives because they are told that they´ll have this disease for life.
But what if there existed a therapy that could actually improve the symptoms and achive that diabetics can live a ´normal´ life again?!
You can help using the amazing method!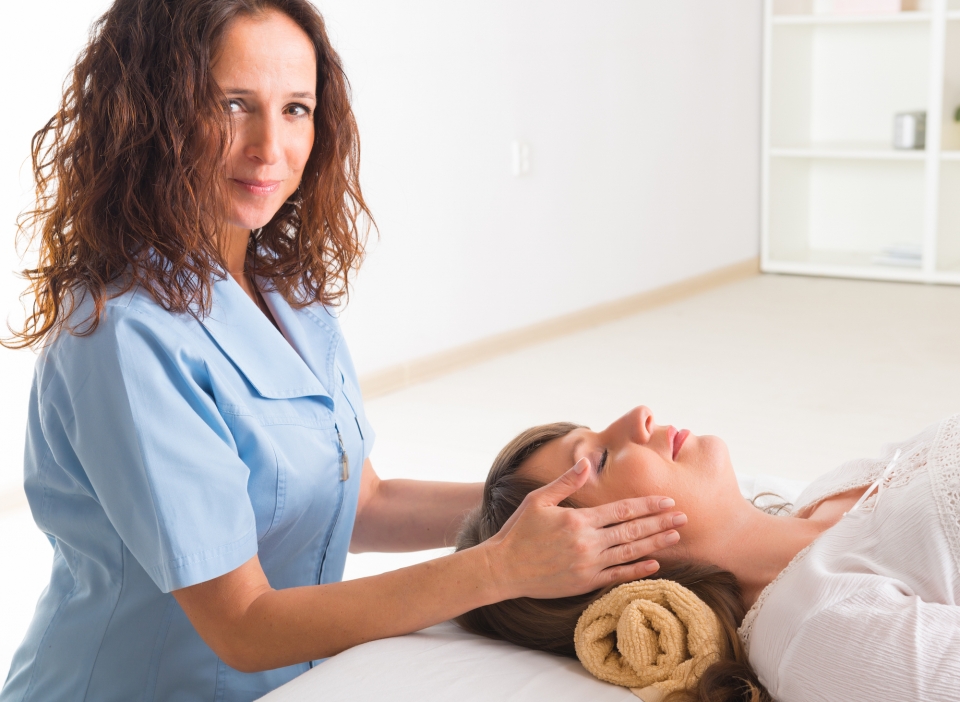 Reflex therapy is a simple and highly relaxing treatment method, for both- the person performing the process and the recipient and is performed by stimulating points and zones on the surface of the skin on the face.
This course will give you all the knowledge and practical techniques you need to alliviate diabete´s symptoms and help those who suffer from this disease.
If you would like to help people with Diabetes live a normal life then this course is for you!
This online course is for health professionals, nurses, physicians, therapists, beauticians and other health conscious people who are interested in working with facial reflex therapy to improve diabetic´s wellbeing. If you love helping people then this is the right course to do!
Note: You must have completed the Facial Reflex Therapy basic course (online, distance or in person) to be able to take this course.
If you have done any of Lone´s courses you know how amazing they are and the high value they provide for you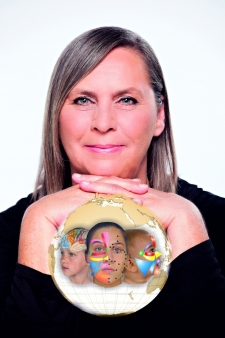 About the Author - Lone Sorensen - Director of the International Institute of Facial Reflexology

¨I´m Lone Sorensen and I´ve been helping people and animals all around the world for the past 36+ years traveling the world to study and teach all about natural medicine. My speciality lies within Facial Reflexology.¨


About Lone
Lone Sorensen is the director of the International Institute of Facial Reflexology and has spent years dedicated to the teaching of reflexology in Denmark, Sweden, Finland, the Netherlands, England, Japan, China, Australia, the US, Mexico, Argentina, Slovenia, Bosnia, Croatia, Poland and Spain, where she teaches in coordination with more than 50 instructors.
Lone has participated in several national and international conventions and is President of the Global Facial Network (www.globalfacial.com)
Her concepts and methodology have been integrated into the research conducted at the Filadelfia Kurhuset State Rehabilitation Center of Denmark for patients with brain damage and dysfunction as of the year 2000. In March 2001, Lone was honored by the OMHS with three titles of nobility; thus, making her the first reflexologist in the world to receive this distinction for her work with Zone therapy and facial, – hand- and foot reflex therapy.
Lone has always helped persons improving their live and thousands of clients can confirm that. She has also been interviewed on several TV shows.


You might be asking yourself

´What will I learn in this Course?´
All 3 types of diabetes
How to create a personalized treatment plan for a diabetic
How to alleviate many of the complications arising from diabetes such as:

Diabetic eye disease

Infertility


Neuritis

Kidney disease

Leg problems

Obesity
It has been easier to gather information about how to successfully treat Diabetes.


During this course the three types of diabetes will be discussed as well as treatment protocols for each of them.

Reflex Therapy is also a great preventative treatment – It is better to be safe than sorry!

No matter where you live, what age or gender you are, we´ve made it very simple to access our Diabetes Protocol. Within minutes you will be able to watch and download the video and pdf and ongoing support ensures that you get the most out of this workshop! Become an diabetes expert now!

You also might be asking yourself

´But what if I have questions?´
Don´t worry, we thougt about everything...

You will also have FREE access to ONE of the monthly Live ASK Lone webinars where Lone will answer all of your questions that have come up during the course.
If you can´t attend the live webinar, you can send your question(s) via the designated online form beforehand and listen to the recording later when you have time.

You can then decide whether you would like to continue with the ASK Lone membership to have access to Lone every month.
We also provide the necessary support if you have questions regarding any technical matters. You can always email us and we´ll guide you through the course.

This course basically gives you the ability to give a diabetic person their life back… which also gives relief and happiness to the family members !
Read some of our case studies below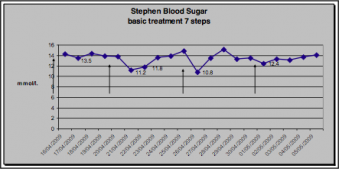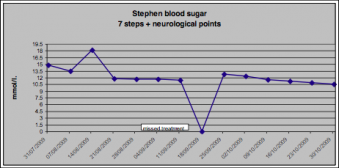 Male aged 49 - diagnosed with Diabetes Mellitus type 2 in 2005, he has managed his condition to date with diet and supplements, however his sugar levels are still too high and can be erratic.
His cholesterol levels are low and healthy but he has been asked by his GP to take medication in order to lower his sugar levels.
Client is keen to try anything rather than become dependent
on medication due to the long term damage it could cause to his liver. As his pancreas is producing some insulin he is keen to try facial reflexology in order to further stimulate the pancreas into
producing more insulin.
I have shown 5 treatments in detail however the sessions are ongoing. You can see from the graph that when we missed a treatment it took 3 weeks to return to previous levels. I treat my client weekly and the levelling out and steady reduction of the sugar levels is very encouraging, we will continue the treatment until we get below double figures. At that point we will need to determine how often the treatment needs to happen in order to maintain healthy levels & encourage the Pancreas to take over. The area of worst deposit is similar but the surrounding area does feel slightly more pliable. The treatments have levelled out and reduced sugar levels, reduced stress and improved quality of sleep
I have the diabetes protocol and used it on my daughter during her second pregnancy, since she had gestational diabetes during her first pregnancy. She did not develop diabetes with the second pregnancy and in fact her blood sugar was in a very safe range when she was tested, so she did not have to have all the sonograms and extra monitoring during pregnancy and labor. Now I am using the protocol with a woman who developed Type 1 diabetes in her 40s after an infection. She came to me because she was suffering from neuropathy after having the disease for less than a year. She had been a runner and was no longer able to run or even walk without severe discomfort. After just one session her feet felt better and she started doing much more exercise. She also tells me that she feels generally better. She continues to come weekly for the time being, but we are hoping that she can reduce her visits to biweekly soon.
Of course you can ask for a refund if you feel this is not the right course for you. If you do this within 30 days after purchase, you will get a 100% refund.

Copyright © 2015 Sorensensistem. All rights reserved.